ABOUT US
Lovaeij is a plus-size clothing brand that exceeds fashion industry norms. We continue in size range where most brands end. We want plus-size people to thrive where other brands want them to hide. Our eye-catching prints and designs are carefully selected to ensure that we produce clothing that is rarely seen on larger bodies. We hope you feel right at home here. 
BY FAT PEOPLE FOR EVERYONE
DRESS / SNEAK PEEK / GREAT BARRIER
Regular price
€109,99 EUR
Regular price
Sale price
€109,99 EUR
Unit price
per
Sale
Sold out
Share
View full details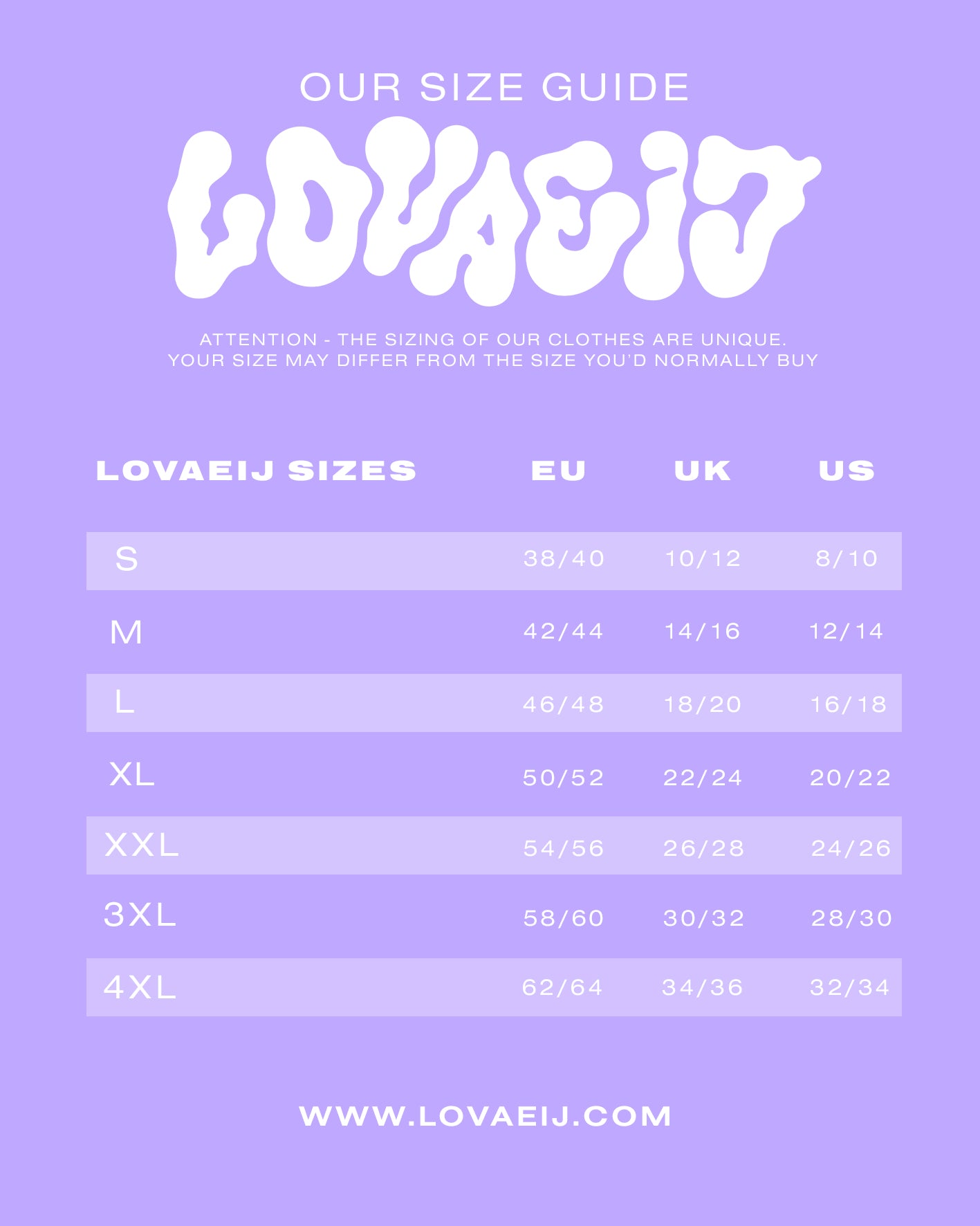 BLOUSE / CE(H)O / UNTAMED
Regular price
Sale price
€49,99 EUR
Unit price
per
Sale
Sold out
Share
View full details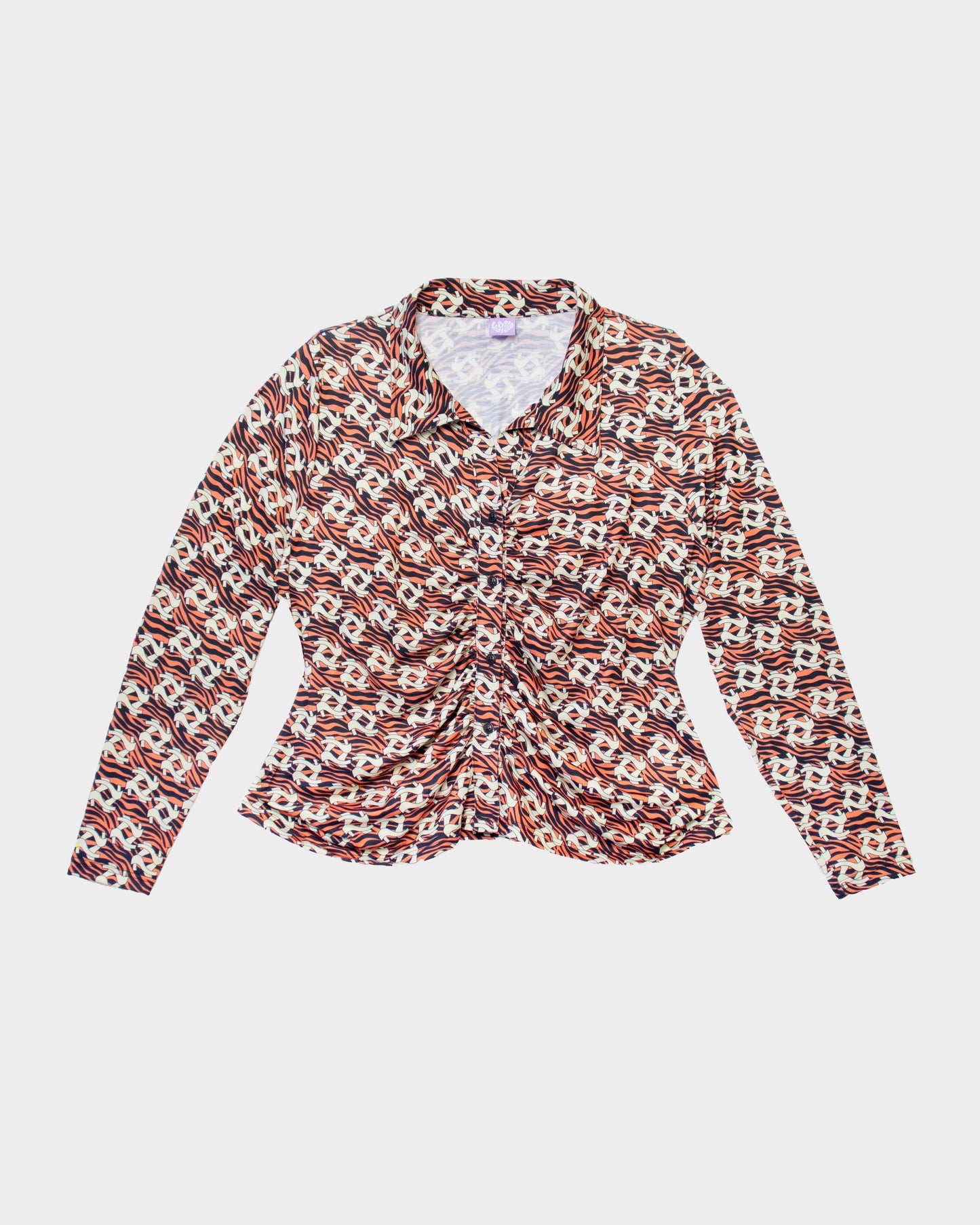 SKIRT / THIGH ME UP / 2022
Regular price
Sale price
€69,99 EUR
Unit price
per
Sale
Sold out
Share
View full details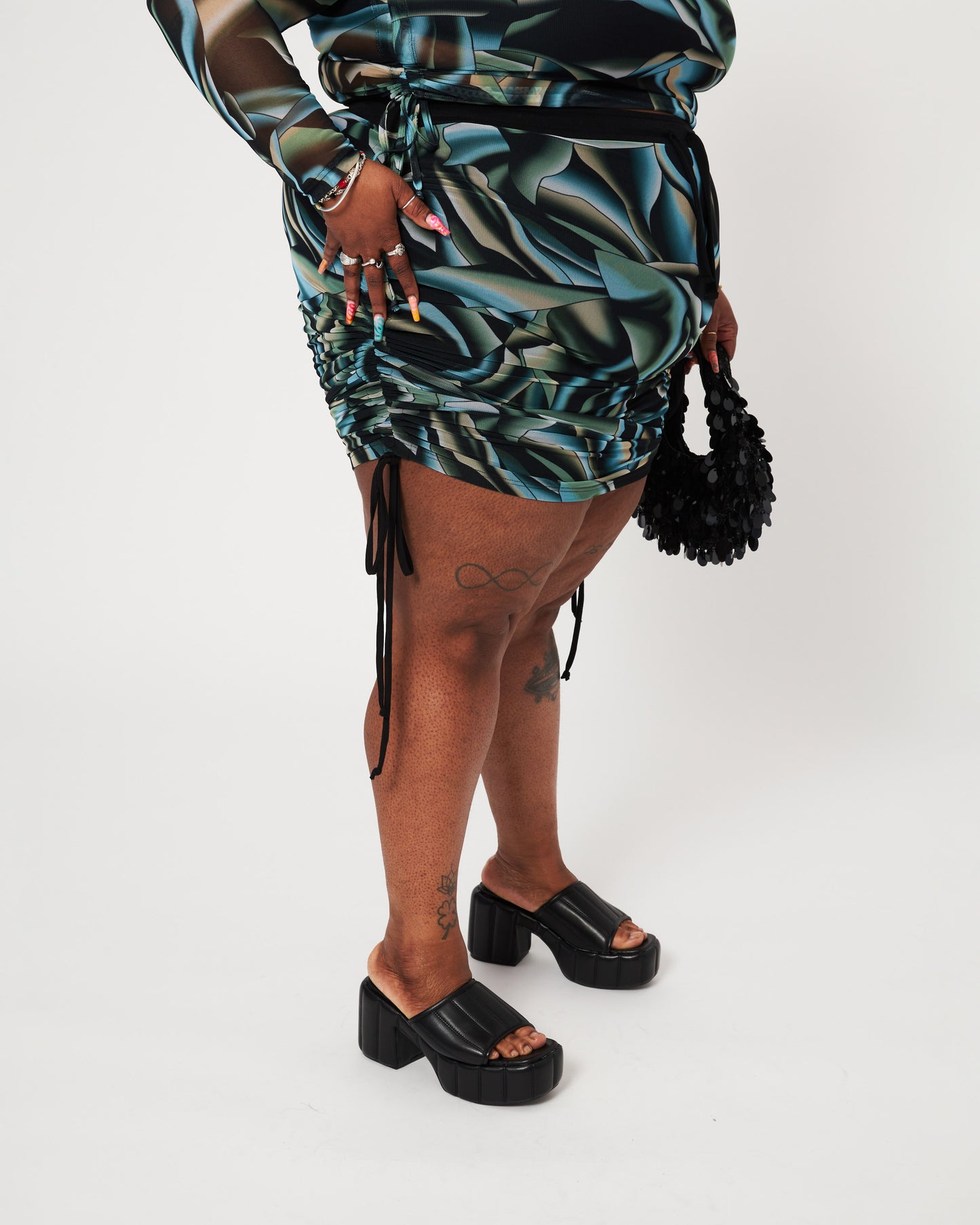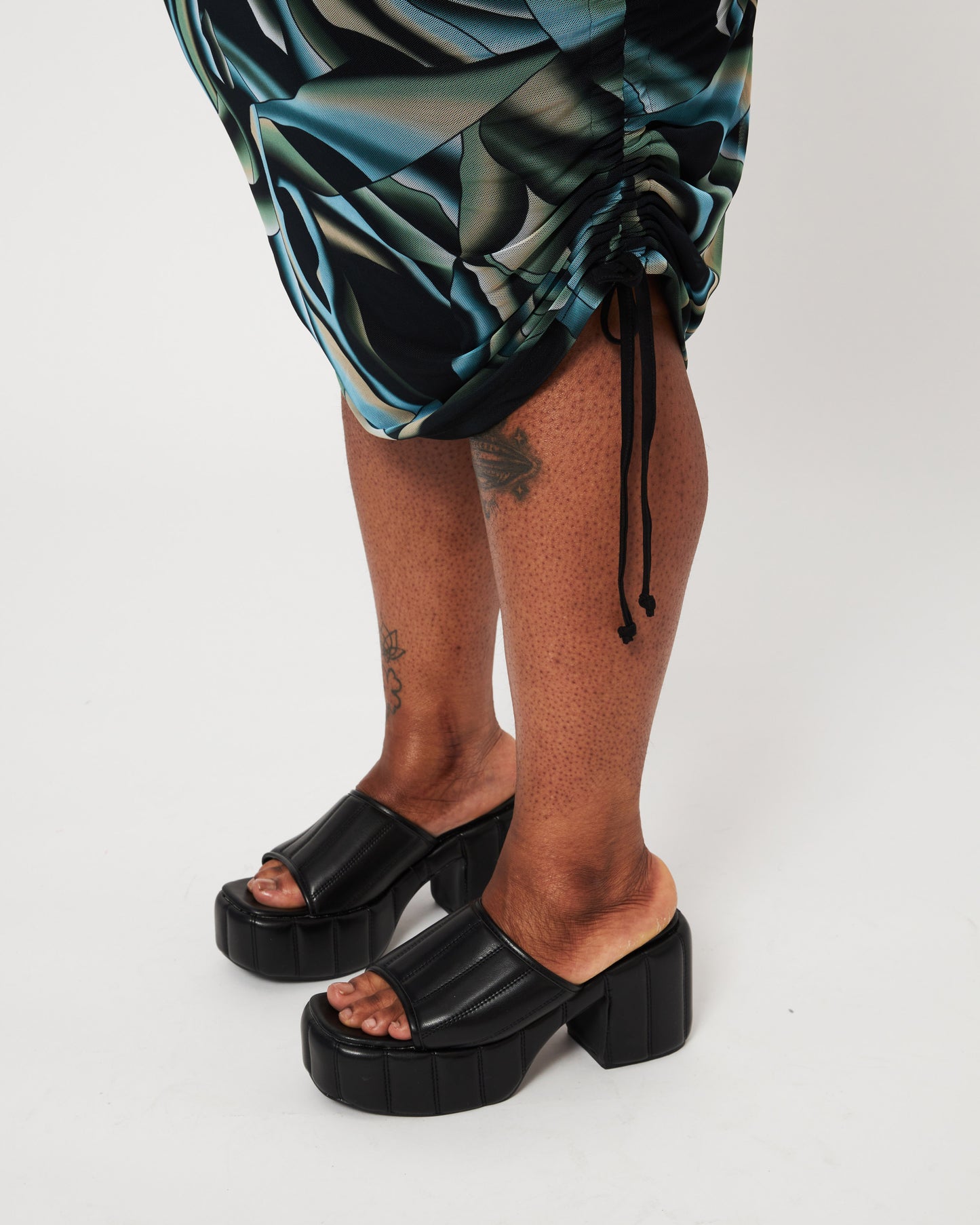 Collapsible content
Sizing

Finding the perfect size can be hard so we have made this page specially for you. At the moment, we don't have a physical store but we made sure that you can figure out your size yourself. If you still have questions, feel free to contact us with your measurements and we will help you.

We've developed our own size range. This means that our unique fit might be different than the size you would usually pick.
The sizing has been tested and developed on two plus-size bodies with two different body types. An apple figure and a pear figure, both generally wearing a size 50/52 EU (the XL on this website).

The ''apple'' type body has a 132cm chest,  a 120cm waist and 133cm hips.
The ''pear'' type body has a 122cm chest,  a 105cm waist and 140cm hips.

Normally, people with different body types couldn't wear the same items because of the fabric being too wide or too tight.We made sure to tackle as many of these issues as we could. Every piece is made of stretchy fabric. The fabric blend is 88% polyester and 12 % elastic. So this means we didn't connected one convection size to our sizes, but two. The pieces are designed in such a way that it doesn't matter where your fat distribution is, the fabric will fill and stretch in the right places.

With every item on the website comes additional information. Here you'll find the measurements of the models and the size they're wearing. This will help you find your size. The "Good to know" will tell you what the fit of the item does, so this will also help you get an idea of what it'll do on your body.

We've made the sizes as true as possible to the convection sizes you see below. But we also know that you probably have a different size in different stores, so let's make this as clear as possible.

To help you pick the right size, we have made a size overview!

Do you swing between a wide range of sizes going from 38-44 EU we recommend size S. Are you most of the time the last size available in "general" stores, pick M or L. If you normally wear a size 48/50 EU we recommend size XL. Are you the last size available in "plus size" stores then XXL is your right pick. Is your size not available in physical stores and that caused you to not know what yours is but you think you're size 60/62, then XXXL is your baby. If you're usually used to buying 6XL/7XL, we recommend XXXXL as the right fit! 

 

| | | | |
| --- | --- | --- | --- |
| Sizing Lovaeij | EU |  UK | US |
| S | 38/40 EU | 10/12 UK | 8/10 US |
| M | 42/44 EU | 14/16 UK | 12/14 US |
| L | 46/48 EU | 18/20 UK | 16/18 US |
| XL | 50/52 EU | 22/24 UK | 20/22 US |
| XXL | 54/56 EU | 26/28 UK | 24/26 US |
| XXXL | 58/60 EU | 30/32 UK | 28/30 US |
| XXXXL | 62/64 EU | 34/36 UK | 32/34 US |

 

 You can help us as well! Make sure to snap a picture and post this to your stories/wall and use #HouseofLovaeijxMe. We will feature pictures on our official @HouseofLovaeij Instagram so that people see all of the different, beautiful people wearing all sizes! Let's build a community together and make people feel at home!

 
Mission

 

The story

Lovaeij has been founded by Lotte van Eijk who wanted to make a difference in the fashion industry. Growing up fat made her realise that all of the stylish clothing weren't made for her. Shopping wasn't fun but an endless quest to find something that she'd fit. Her grandmother Nel and her mother Marleen teached her how to look good despite of not seeing her own body in/on any shops, billboards or magazines. She graduated from Willem de Kooning Academy in Photography (class of 2018) where she used her Instagram @lovaeij as a key part for her graduation project. The celebration of a fat shell, the celebration of loving ones body, the celebration of being, wrapped in vulnerable imagery.  

"A romantic, vulnerable and soft series of a body that was thought to be none of the above. A series consisting of images we are already familiar with, but now molded into another appearance. Where photography is expressed as a romance with oneself. A therapy to reconnect with the reflection seen in the mirror."

 

 

She wanted to show that her body is a work of art, and so she continued doing that on instagram, sparking a light within thousands of followers that connected to her message. She wanted to show everyone that a fat body can and should be celebrated. Empowered by her followers and seeing how everyone grew from her art, she started to think about her lifelong dream; A fashion house where everyone fits anything they want. 

 

The plan

Due to COVID, a lot of her modeling work paused. And in the moment of stillness there was clarity. This was the time to begin.

Since the fashion industry only produces clothing that makes sure fat people are hidden, Lotte wanted to do the opposite. She wanted fat people to be seen, she wanted necks to turn, she wanted belly's and booty's out. She wanted it al, but where to start? The past 1,5 years, she worked on creating this dream together with people who believed in this vision. She wanted a brand that represented how she sees the world; Fluid, inclusive, bold, sexy, daring and simply connected to what she stands for. She wanted everyone to feel at home within the brand and her clothing. It's more than a fashion house; it's a home.

The clothing

Since Lotte loves an outfit you can just throw on and be done with she wanted that to appear in her first collection. All her life she had to make so much effort, search every store and alter every piece of clothing to be able to look the way she wanted to look. There was never a piece that translated her insides, she was never able to find clothing that represented how she felt, how she wanted to be seen. So that's just what she was about to make. The right fit, sexy, bold, matching and comfortable.

Welcome home. We've been waiting for you. 
Shipping & returns

Your order will be handled by our transport partner My parcel and shipped by Post NL. Your tracking number will be sent to you via a separate email once your package has been checked in by our transport partner My parcel. 

| | | | | | |
| --- | --- | --- | --- | --- | --- |
| |  Netherlands | Belgium  | Germany  | Rest of Europe | Rest of the world ** |
| Parcel  | €7,00 | €9,50 | €9,50 | €19,50 | €35,00 |
| Shipping time  | 3-5 days* | 3 - 5 days | 3 - 5 days | 6 - 9 days | 10 - 14 days |

 

Attention: Due to an increase in energy surcharge the shipping rates have gone up, we hope for your understanding. 

* Business days.

**Worldwide shipping can be delayed due to Covid.

 

Good to know

Free shipping worldwide for orders over €200

Please note that we do not ship on Saturdays, Sundays or holidays.

All the items are shipped in compostable mailers together with biodegradable stickers and rice paper packaging. This means that every part of the packaging can be recycled. 

Also good to know 

 If you made a mistake during the checkout process, please make sure you contact us as soon as possible. Please email us at support@lovaeij.com, subject: 'address change'.

We may be able to change your information, but if the parcel has already left our warehouse, there is nothing we can do.

Returns

If you change your mind or are dissatisfied with the purchased clothing, it is possible to return the item(s) you ordered within 14 days following the delivery of your order. Please note that all sale items are final sales and may not be returned.

For domestic shippings and shipping within Europe you'll find a return button on the track and trace browser page you received regarding your shipment. In this way you can return your items easily. 

As a company we try to move as sustainable as possible, this is why we choose to reinstate the return costs. Please try to refrain from ordering multiple sizes, for advice on sizing you can always contact us and check the SIZING page. We hope for your understanding. 

Please include reason of return and order number in your package. 

We expect the returned item(s) to be unused and in its original condition and packaging. Hangtags and labels still attached to the items, otherwise it is not possible to send them for return. The item is your responsibility until it reaches us and the costs of returning the item to us are at your expense. 

Once your returned item has arrived, we'll need 6-8 business days to process it. Please allow an additional 2-3 business days for the transaction to appear on your bank account.

 
Contact

LOVAEIJ

Sint-Agathastraat 54, 3037 SH Rotterdam
The Netherlands

info@lovaeij.com

Chamber of Commerce: 72542365
VAT: NL002373041B67